Main Content Starts Here
Misty R.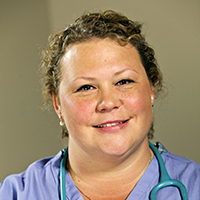 Bachelor of Science in Nursing Program Graduate
Before attending DSN I was actually a phlebotomist for 18 years.
I chose to attend Denver School of Nursing because I had known a couple of people who had gone to school here and actually when I started going to school I had a friend that was a couple of classes ahead of me and they had nothing but good things to say about the program.
So many of my instructors would spend extra time if we had questions after the class or maybe you didn't get something, they were kind of go over it a different way for you until it kind of clicked with you.
Now, I'm actually a nurse in OR and I absolutely love the OR. When I was in nursing school here I was actually more intent on ER ICU and my instructor at one of my clinical rotations was able to get us a day in the OR and I fell in love with it.